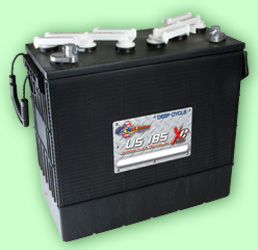 One of the most important parts of a Renewable Energy power system is the battery bank. Most RE battery banks use flooded lead acid deep cycle batteries due to their cost effectiveness and energy efficiency, not to mention U.S.Battery brand batteries are 100% Recyclable.
Our deep cycle 12-volt batteries are frequently recomended by top Renewable Energy power professionals across the World. U.S.Battery's 12 Volt Deep Cycle ( Solar Power Batteries) are most commonly used in "pairs" to make 12 volts. Our solar power deep cycle batteries have very thick plates combined with XC (extreme capacity diamond plate technology) mixed in the paste at manufacturing time. U.S.Battery brand Batteries are designed for hours of heavy discharge each night, followed by a recharge each day. Renewable Energy batteries must be able to provide long periods of deep discharge each evening, followed by a full recharge in the sunlight hours each day. This can be grueling on substandard batteries. Not to fear! U.S. Battery puts XC Diamond Plate Technology in every one of our Premium Deep Cycle Batteries. Learn more about XC Diamond

FEATURES:
Diamond Plate Technology® - Advanced paste formulation maximize's capacity life and recharge-ability.
Antinium™ - This special grid metal mixture is used to reduce grid corrosion and water usage. In combination, these features will extend the life of your battery by 15-20%.
Crystalock™ - Our advanced plate curing process insures structural strength and solid adhesion to the grid, the key to superior cycle life.
SpeedCap™ - A positive locking cap that will not vibrate off or "spit" acid when removed.The "gang" feature
allows for easy removal of all three caps at once saving time and money.
Thicker Plates - Our plates are the thickest in the business, assuring you the longest cycle life possible.
Extra Electrolyte - Using shorter, thicker plates allows for more electrolyte over the plates, extending required water intervals.
Lifting Handle - Makes installation and removal quick, easy and safe.